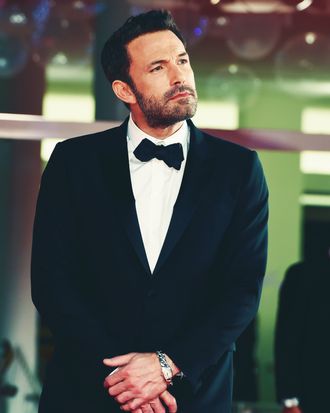 Photo: Marilla Sicilia/Mondadori Portfolio via Getty Images
Remember when we all found out that Ben Affleck was on Raya? Selling Sunset's Emma Hernan sure does. In a new episode of the world's favorite and most deranged real-estate reality show, Hernan revealed that she matched with Affleck on Raya "right before" Bennifer got back together last year. "Page Six" claims that, at one point, the song Affleck had on his profile was "Guava Jelly" by Bob Marley. So for the most accurate experience, please listen along as you continue reading.
In the episode of Selling Sunset, Hernan — the Oppenheim Group agent with the empanada company — tells Chrishell Stause about her alleged exchange with Affleck after Stause mentioned the viral TikTok that introduced Raya Ben into our psyches. Here he is, in case you need a refresher and would like to be haunted by Ben Affleck whispering "it's me" to a front-facing camera:
"He may or may not have been texting me," Hernan told Stause in the fifth episode of the Selling Sunset's newly released season five, should you like to follow along at home. She added that he "may or may not" have asked her to grab coffee "a few times." Hernan may have questionable ideas of what an empanada is but she does know how to skirt slander.
This isn't the first time Hernan's mentioned matching with Affleck. She previously told the Today show that the she and the actor "talked for a little bit," though they ultimately never met up. "We have the Boston connection," Hernan mentioned on Selling Sunset. "So that was his opening pick-up line."
But wait! We have a rebuttal from the Affleck camp. A rep for the actor told People, "Raya has confirmed that he has not been an active member for several years." Hmm, not exactly a flat-out denial of Hernan's claim. A rep for Hernan clarified to People that she was referencing an exchange that occurred back in 2019 — so not exactly "right before" Bennifer's reunion.
Affleck himself seemed to previously confirm that he was, in fact, on the dating app. He previously responded to the viral TikTok on Instagram, writing, "HA, you got me. I'm dating." So what is the truth? I guess we may never know. Regardless, I will be spending the next three business days imagining a world in which Ben Affleck guest stars on Selling Sunset.