Samsung is working on several improvements for the Galaxy Z Fol4, if rumors are to be believed. This includes improved cameras to bring the phone a little closer to the S22 models.
The phone will adapt a 10 MP telephoto camera with 3x optical magnification, reports GalaxyClub. Presumably, this is the same 3x camera that all three Galaxy S22 models have. It will replace the current 12 MP 2x camera on the Z Fold3.
There may be another change on the cards – a 10 MP selfie camera. Unfortunately, the leak doesn't make it clear if that is for the selfie camera on the cover display (which already has a 10 MP sensor) or if it's for the under display camera inside.
The Z Fold3 UDC camera has only 4 MP resolution, which produced okay-ish results, though they still left a lot to be desired considering the price of the foldable flagship. To be fair, under display camera tech is still in its infancy.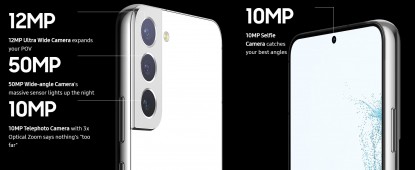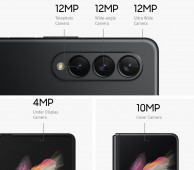 Camera setups: Samsung Galaxy S22 • Galaxy Z Fold3
Anyway, even if the UDC camera doesn't see a huge improvement, the phone will still have a better selfie camera on the cover display and even better ones if you use the main cameras for selfies.
Speaking of the main cameras, we haven't heard much about the wide and ultra wide modules, so we don't know whether the Galaxy Z Fold4 will use the 50 MP main camera from the S22 and S22+ or not, for example. The new foldable flagship should be unveiled soon (the Z Fold3 and Z Flip3 launched in August of last year), so we should get a better picture soon.